What is Day book in tally Prime/Erp 9 ? How to use day book?
A day book is a record of all transactions like, purchase, sales,receipt, payment in a day of an organisation or business concern. This is similar to journal book in manual accounting. In tally erp 9, it is a report in which all entries posted. This report does not have any balances. You will get the summary of one day activities by looking at this report.
How to view Day Book in tally Prime:
To View day book of tally Prime :
1. Go to Gateway of Tally > Display > Daybook . The Day Book will appear as shown below:

2. Click F2: Period to change the period for which the Day Book is displayed.
3. Click F4: Change Vouch to view Day Book for a particular voucher type.
4. Select the required Voucher Type to display.
To Quickly Access the day book use these Hot Key D > D
Here is a typical format.
This is a condensed format report.
View Detailed Day book of tally Erp9/Prime: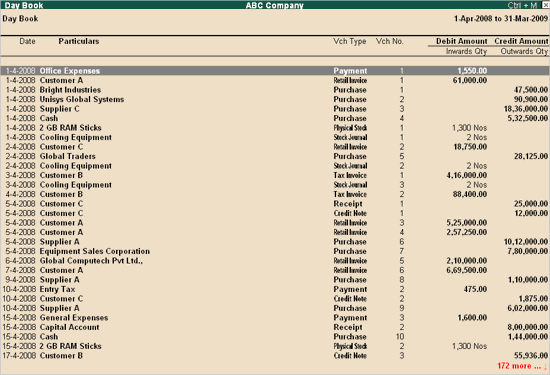 To view detailed day book you can click F1: Detailed button on the right hand side of the screen.or USE SHORTCUT KEY Alt+F1 .
How to change the date of day book in tally erp 9?
To change the date and view the day book of different date you can use the date
button or use shortcut key F2.
Type the desired date,and hit enter key.
To view Previous day and Next day book use + and – key from your keyboard,That is
Previous Date Day book Shortcut Key is –
Next Date Day book shortcut key is +
View day book for a particular period in tally
To view day book for a particular period you can use Period button, or shortcut Key Alt+F2 For example, If you want to view the report of October 2018. enter starting date and end date of the month in From & To date column provided as shown below,then Hit enter Key.
View a particular types of voucher in day book:
You can view a particular types of vouchers in the day book of tally erp 9, for example if you want to view sales entries only in a day , you have an option in the button panel called Change Voucher or use shortcut key F4.
The list of all voucher type will be displayed, this includes the voucher type created by you.
Here we are selecting GST sale BB voucher type created by us.Let's see the result.
Selection of entries and
operation like cancel, delete
You can select multiple entries to delete and cancel in tally erp 9
To select a line, place the cursor and press space bar.
To select another line again place the cursor on the next line and press space bar.
To select all lines, Hold Ctrl key and press space bar.
To delete multiple entries: Press Alt +D ,Tally will ask a confirmation and delete.
To cancel selected entries :Press Al+ X or click on cancel button on the bottom.
To duplicate an entry, place the cursor on a line and use shortcut key Alt+ 2 or use Duplicate button.
To insert a voucher in between lines,place the cursor on a line and Hit Alt+ I the voucher will be inserted on the line above the placed line.
To Alter a voucher ,Hit enter key from the line, the voucher will opened in the alteration mode.
To add a new voucher, Alt+ A from the day book. the new voucher entry screen will be opened.
To remove a line from the day book Use alt +r, this will not delete the entry, this will hide the entry.
To restore removed line one after another use Alt +U ,To restore all removed lines at a time use shortcut key Ctrl+U.
Configure Day book for more option.
To Get additional options for more powerful report, you can configure day book by pressing F12 configure button.
In the configuration screen, you will find the following option.
Format : Whether want to view condensed or detailed report.
Show narrations: This invoke narration entered in the voucher to the report.
Show bill wise details : If you activated bill wise details, the tally erp 9 will display bill-wise details in the day book report.
Show cost center details also: This will display cost center details if any activated and entered.
Show inventory details : This will show the stock items details.
Show additional description of stock item :
This will display additional details entered in the stock item creation screen.
Show Bank details also : This will display the bank name, type of transactions,instrument number and other details entered during voucher entry.
Select Vouchers to show : There are three options in this, All vouchers, Accounting entries only,Inventory entries only.
Appearance of stock item name: There are various style of stock item name mixed with Alias,description,Part No, choose the style you want to display in the day book.
Appearance of Names: There are four styles available,select the one applicable to you.
Sorting method: Several sorting methods available, select the one for you.
Here is a typical configured day book.
Filtered report ,View day book that satisfies specific conditions.
You can use Range filter to view day book in a specified way. This will help you to display day book in the given conditions. Let's check it with an example.
Example : You want to view all payment vouchers greater than 5000 in October .To get this,
Click on Range button at the right bottom of day book or use shortcut key Alt+ F 12
Voucher having Voucher type with Name: equal to Payment.
In the next line, select End of list, then hit enter, in the next line, the conditions will show again select and Voucher having Ledger Amount greater than 5000
End of list
Hit enter key, you will get all payment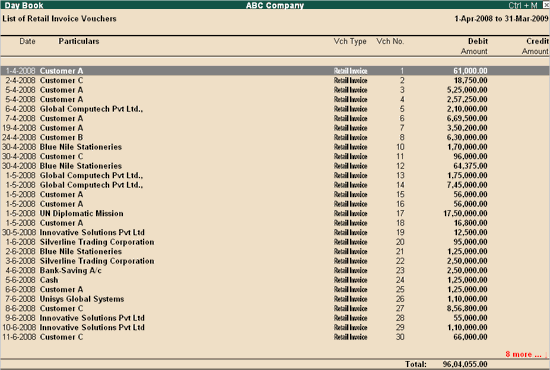 vouchers greater than 5000, here is the result.
Note: These information have been taken from Tally Solutions Pvt. Ltd.